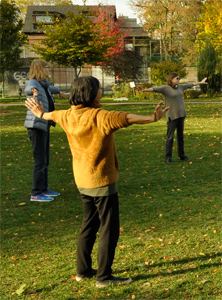 Monday Evening in Withrow Park
July and August
7:00 – 8:30 pm
Beginners are invited at 7:00 for an introduction to Tai Chi
Regular practice at 7:30 with Foundation Exercises, "8 Methods," Qigong and a Set
Meet in Tai Chi Area (1. on the map)
in the northwest part of the park
next to the tennis court.
Senior Instructor
Patrick Leung
Coordinator/Instructor
Silvia Wineland
If you are curious about tai chi, you can drop in to observe and participate in a class. Everyone is welcome, including experienced students who wish to continue their practice.