Evening Practice in Withrow Park
On Monday and Wednesday evenings, at 7:00 pm, we meet in Withrow Park.
Every Monday, July through Sept. 2 (Labour Day)
Every Wednesday: July through Sept. 4.
The following week we return to St. Barnabas and St. Simon's.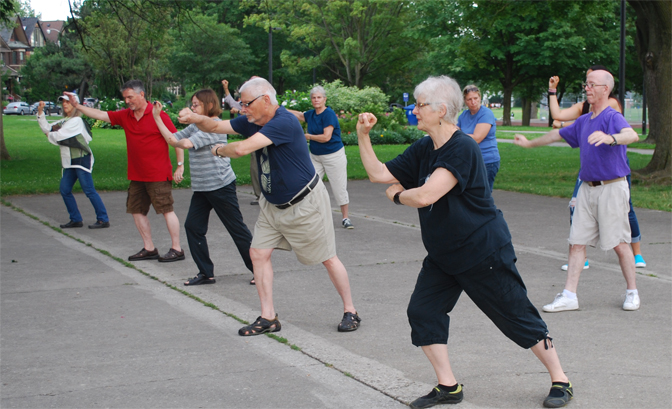 We meet every Monday, Wednesday and Friday,
in July and August,
weather permitting.
There is no charge for classes in the park.
Visitors are welcome to check out tai chi and to practice with us.
Friday Mornings in Riverdale Park
On Friday mornings, at 10:30 am, through July and August, we meet in Riverdale Park East along Broadview Ave., north of Gerrard, between the Clubhouse (Langley Ave.) and Bridgepoint Hospital (Victor Ave.)
We post our sign to be visible from Broadview and practice in the shade.
We return to classes in our church locations the second week of September.
Coordinator
Silvia Wineland
If you are curious about tai chi, you can drop in to observe and participate in a class. Everyone is welcome, including experienced students who wish to continue their practice.