"I would like to thank Patrick"
I would like to thank Patrick for teaching us tai chi through Zoom Tai Chi refinement during this pandemic. I have learned a lot in this refinement, such as the correct way to start the commencement of tai chi, the bow stand transition, the spiral down inner movement etc. And Patrick is very patient to correct my posture and the bad habits on some TC moves. Thanks again Patrick and hope we will see you in the very near future to teach us TC in person.
July 5, 2021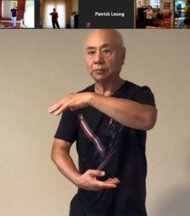 "You are doing a fabulous job teaching your classes"
Janny, you are doing a fabulous job with teaching your classes. I so look forward to them.
They have the right mix of formality and informality and bring fun to the day.
And also we know our bodies and minds are being taken care of !!!
"As an 81 year old … I feel I have benefited greatly from this discipline"
As an 81 year old man with chronic leukemia I have been doing tai chi for 5 years.
I feel I have benefited greatly from this discipline. It has maintained and improved my flexibility and physical stamina.
By striving to do each element of the set well, my mental capacities have also been exercised.
"It works for me"
I intersect with tai chi both on a personal and professional level.
On the personal level: After I crushed my heel bone in a freak accident, I couldn't weight bear for 3 months and lost the balance on my left side.
The practice of tai chi has dramatically helped me restore this balance and recover from the injury. As our teacher Patrick says, "It is a work in progress."
On the professional level: I am a physician who specializes in endocrinology and metabolism, which includes osteoporosis or "brittle bones."
The Osteoporosis Society of Canada recommends tai chi as one of the exercises of choice to prevent falls and the devastating effects of fractures.
So I tell my patients, "Try tai chi – it works for me!"
"I feel more flexible"
I have been doing Tai Chi for about 5 years.
As a former nurse, I think Tai Chi has many benefits, which help us in our daily activities.
The movements are slow and gentle, no stress on our muscles or joints and very good for balance.
I feel more flexible, without any discomfort in my daily activities.
In summer, we sometimes do Tai Chi in the park.
I would recommend Tai Chi for all ages to help keep you fit.
"The social atmosphere is enjoyable"
I have been practicing Tai Chi for some 8 years and find it most beneficial.
It is a gentle form of exercise but promotes strong muscles, good breathing, balance and coordination.
Those who teach are knowledgeable, proficient and most welcoming and the social atmosphere is enjoyable.