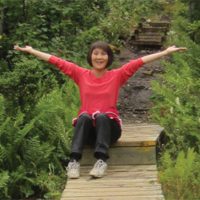 I believe in the many benefits of Tai Chi and it is my desire to share it with our community.
It is great that people can attend classes in our centers, I also enjoy my many opportunities to share Tai Chi in several  retirement homes and work places.
I have a wide range of interest in various forms of arts: especially those involving movement, such as Qi Gong and Tai Chi.
My background in alternative education helped to steer me into a holistic approach to bring about an unification of mind, body, spirit and emotional well being. Most of my classes in Tai Chi and Qi Gong also include a brief meditative period for mindfulness and relaxation bringing total wholesomeness to your mental and physical health.
It is wonderful that my students and I are together on a journey to a healthier life.