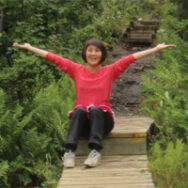 As a dedicated Tai Chi instructor, I've had the privilege of sharing the profound benefits of Tai Chi with diverse groups for over a decade, from local clubs to community centers, retirement homes, and workplaces. In addition, I've been honored to work with cancer survivors and brain injury survivors. Weekly, I conduct gentle, mindful exercises of Tai Chi and Qi Gong for them and their caregivers. These experiences highlight the inclusivity and versatility of Tai Chi and Qi Gong, beyond the physical walls of our club.
With a background in alternative education and a strong passion for mindful movement practices like Qi Gong and Tai Chi, I offer a holistic approach to teaching. My goal is to unite mind, body, spirit, and emotions through Tai Chi and Qi Gong incorporating my knowledge on proven scientific researches to promo health and wellness.
Join me on this meaningful journey towards a healthier life. Let's work together to improve your mental and physical well-being and enhance energy flow. I enjoy working with all ages and fitness levels. It's a joy to share this transformative practice with you.