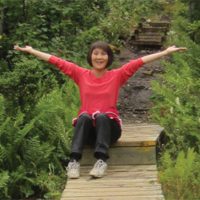 As a passionate Tai Chi instructor, I am dedicated to sharing the many benefits of this ancient art with people from all walks of life and levels of fitness. From our local Tai Chi club to community centers, retirement homes and workplaces, I have had the privilege of reaching a wide audience and introducing them to the joys of Tai Chi. And with our online programs, the opportunities to share this transformative practice are beyond our local community.
With a background in alternative education and a strong interest in mindful movement practices, such as Qi Gong and Tai Chi, I bring a holistic approach to my teaching. My aim is to unite mind, body, spirit, and emotions through Tai Chi, incorporating brief meditative periods to enhance the overall benefits of relaxation, and mindfulness.
Join me on a meaningful journey towards a healthier life. Let's work together to bring wholesomeness to your mental and physical health, and improve your energy flow. It is a joy to be on this journey alongside my students, and I look forward to sharing this wonderful practice with you.